Marina Inn At Grande Dunes - Myrtle Beach
33.76493453979492

,

-78.81553649902344
Myrtle Beach

,

United States

|
210US$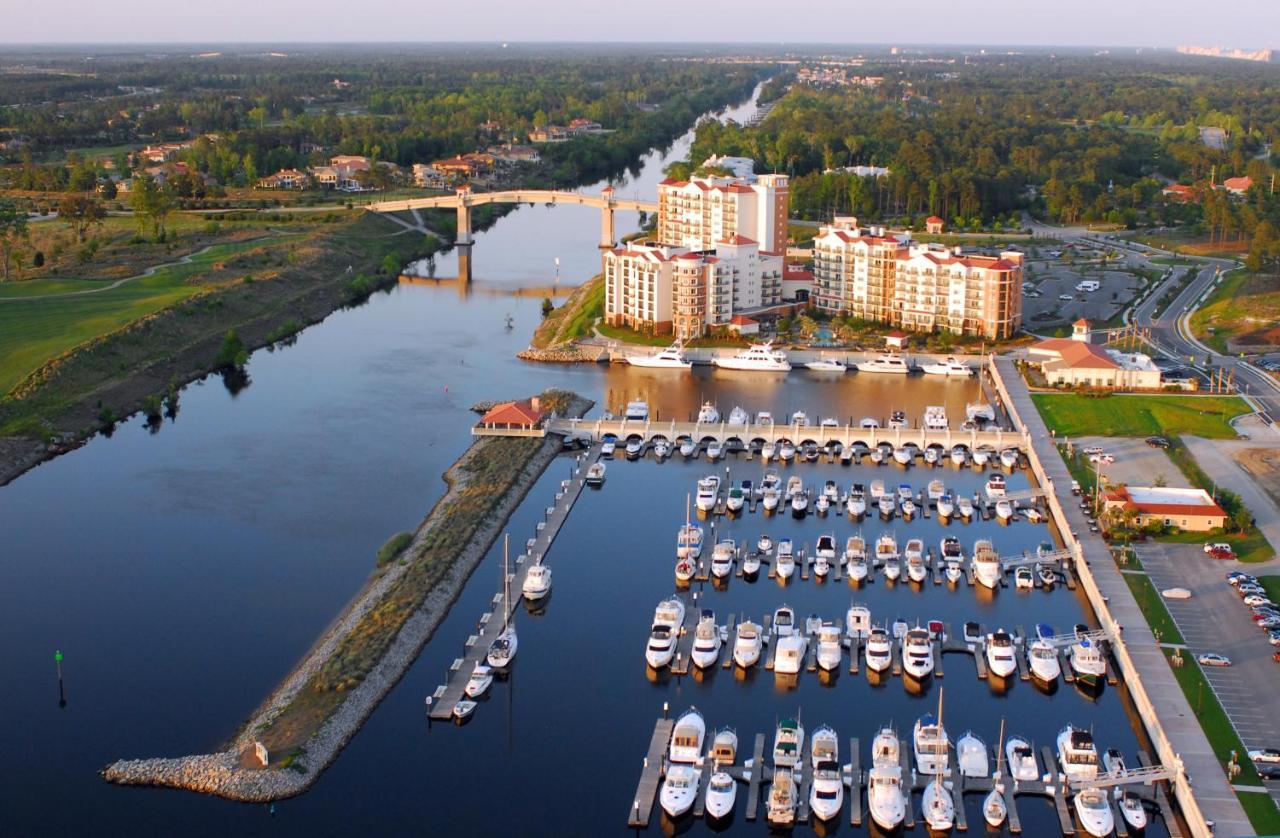 Address
8121 Amalfi Place
,
Myrtle Beach
,
South Carolina
,
United States
,
29572
, South Carolina
Overview
Marina Inn At Grande Dunes Myrtle Beach is a premier 4-star property set 1.4 miles away from The Track and around 2.2 miles away from Horry County Mountain Bike Park. The WaterScapes restaurant and the pool bar are available at this smoke-free resort boasting a beachfront location in Myrtle Beach.
Location
The hotel is located in a central area of Myrtle Beach, just a few minutes' drive from Carolina Opry Theater. The Marina Inn At Grande Dunes is situated a 15-minute drive from St Andrew Catholic Church, which is considered to be a sacred site. This Myrtle Beach property also lies right at hills. One of the most important attractions in Myrtle Beach is Dunes Golf and Beach Club and it is located near the spectacular Marina Inn At Grande Dunes.
Rooms
The Myrtle Beach hotel has 200 rooms with a patio and a balcony. Free WiFi and television along with tea and coffee making facilities are provided. The nice touches include a stone fireplace together with a couch and a work desk. Featuring comforts like a hairdryer and complimentary toiletries, the private bathrooms are equipped with a roll in shower and an additional toilet. Some units feature views of the garden.
Eat & Drink
Guests can have breakfast in the restaurant every morning. Local American cuisine dishes, served in the American restaurant are the highlight of Marina Inn At Grande Dunes Myrtle Beach. Guests can enjoy signature drinks in the hotel's small bar.
Leisure & Business
Guests can enjoy a sun terrace and an indoor swimming pool with an extra charge. The property offers a fitness center as well as a wellness area for guests to enjoy their stay. The Marina Inn At Grande Dunes features a fitness center and an indoor pool. This lovely hotel provides a variety of treatment options such as beauty treatments, facials and a spa service along with a Jacuzzi, sauna facilities and an outdoor swimming pool. Corporate travelers will benefit from a 24-hour business center and a meeting room available on site.
Internet
Wireless internet is available in public areas for free.
Guest Parking
Public parking is possible on site for free.
Year renovated:   2006.  Number of floors:   12.  Number of rooms:   29.
Facilities
Most popular facilities
Free Wi-Fi
Free Wi-Fi in public areas
24-hour services
24-hour reception
24-hour security
Swimming pool
Indoor swimming pool
Saltwater pool
Infinity pool
Private beach
Beach access
Private beach
Sun loungers
Beach umbrellas
General
Free Wi-Fi
Parking
24-hour services
Swimming pool
Air conditioning
Facilities for kids
Private beach
Sports & Fitness
Fitness center
Diving
Horseback riding
Tennis court
Golf course
Table tennis
Fishing
Services
Free shuttle service
Room service
Housekeeping
Laundry
Dry cleaning
Tours/Ticket assistance
Limousine service
Grocery shopping service
Welcome drink
Happy hour
Dining
In-room breakfast
Restaurant
Poolside snack bar
Dinner
Special diet menus
Business
Business center
Meeting/ Banquet facilities
Fax/Photocopying
Spa & Leisure
Infinity pool
Saltwater pool
Indoor swimming pool
Beach access
Beach umbrellas
Sun loungers
Live entertainment
Sun terrace
Garden area
Spa & wellness center
Sauna
Jacuzzi
Facial
Beauty treatment
Massage
Pool with view
Shallow end
Room features
Air conditioning
Heating
In-room safe
Sitting area
Patio
Terrace
Balcony
Tea and coffee facilities
Dining table
Bathroom
Washing machine
Free toiletries
Self-catering
Kitchenette
Refrigerator
Microwave
Dryer
Cookware/ Kitchen utensils
Media
Flat-screen TV
CD player
AM/FM alarm clock
Good to know
Check-in
from 16:00-23:59
FREE
Check-out
until 11 am
FREE
Children & extra beds
There are no cribs provided in a room. 
Pets
Pets are not allowed.
Rooms and availability

Bed options:

Max:

2 persons


Location
8121 Amalfi Place
,
Myrtle Beach
,
South Carolina
,
United States
,
29572
, South Carolina
City landmarks
Nearby
Restaurants
Hotels nearby
Carolina Opry Theater
3700 ft
Pirates Voyage Fun
3100 ft
St. James Plantation Golf
4300 ft
Church
Faith Presbyterian Church
4500 ft
Golf Course
Dunes Golf and Beach Club
4800 ft
Grande Dunes Marketplace
1.1 mi
Northwood Shopping Plaza
1.1 mi
9713 N Kings Hwy
Riddles Escape Room Myrtle Beach
1.8 mi
MC Donald's Amusement
1.4 mi
Glen Dornoch Waterway Golf Links
1.5 mi
Golf Course
Cane Patch Par 3 & Driving Range
1.5 mi
Golf Course
Cane Patch Par Three
1.5 mi
Jungle Safari Mini Golf
1.6 mi
Extreme Laser Tag Center
1.7 mi
First Free Will Baptist Church
1.7 mi
Golf Course
Waterway Hills Golf Club
1.9 mi
First Church of Christ Scientist
1.9 mi
150 Frontage Road B-2
Horry County Mountain Bike Park
2.1 mi
Golf Course
Mel Sole Golf School
18.5 mi
Grande Dunes Country Club
18.5 mi
Golf Course
Grand Dunes Golf Course
1300 ft
Restaurant
Drift A Coastal Eatery
1.0 mi
Restaurant
Ducatis Pizzeria & Trattoria
5100 ft
Getting around
Airports
Myrtle Beach International

(MYR)
11.9 mi
Florence Regional

(FLO)
70.6 mi
You can book a shuttle, once your reservation is complete.
Reviews of Marina Inn At Grande Dunes
Eric

We enjoyed our Thanksgiving stay with complementary breakfast and dinner included! The location was perfect for shopping and dining, and we loved the waterfront views from our room. The staff were friendly and helpful, making our stay even more comfortable.

However, we were disappointed to find that the pool was smaller than expected and quite crowded, and the gym facilities were limited. Additionally, the decor and furnishings in the hotel felt outdated and in need of renovation.

Dean

I loved that I could enjoy water sports at the beach and that the hotel staff was so friendly. Additionally, the hotel had a great breakfast and the location was perfect as it was close to everything I was interested in.

Nothing, all was good.

Walter

The food and staff were good. The location was convenient, near a mall. The hotel was maintained well and had a decent view of the lake. The indoor and outdoor pools were great for my children.

My stay was not worth the cost of almost $600! The pool area had no towels and one hot tub didn't work. The room was dirty upon check-in with hair and dirt on the sheets. To make matters worse, cleaning staff entered our room without knocking. my experience was eh, okish.

George

This hotel offers a great location, with easy access to nearby attractions and restaurants. The view is breathtaking, and the leisure facilities are fantastic. There are plenty of options to keep you busy, or you can simply relax and enjoy the amenities. Plus, the service is excellent, ensuring a comfortable and enjoyable stay.

There was one negative aspect of the hotel that detracted from the overall experience.

Robert

Relaxing, gorgeous room complete with an exceptional view and the fireplace, for instance. The hotel is in the secluded location to harbour. And it's right by the beach, a tropical island, and the beautiful grounds outdoors.

Louis

The hotel was perfectly clean and staff were all efficient and cooperative. I was given stunning room with an exceptional view as well as kitchen. Also, location was ideal, not very far from Carolina Opry Theater.

Herbert

The room is huge with an exceptionally comfortable bed and pillows. Efficient and cooperative staff is the reason I would like to come again.

James

We had an amazing stay at this hotel! The rooms were really comfortable, and the staff was always friendly and helpful. We loved the complimentary breakfast and the warm towels. The view was really beautiful and we enjoyed relaxing by the pool. The location was really convenient - close to shopping, restaurants, and shows.

There were a few things we didn't love about this hotel. The gym floor was often wet and slippery because of the nearby pool and sauna. Also, the bed mattress wasn't the most comfortable. But overall, we really enjoyed our stay and would definitely come back!

Daniel

Excellent accommodation with favourable setting right by food is okay at best and north and restaurants. The helpful and pleasant staff and their attitude.

Lucy

No complaints, the venue met my needs, can recommend it. Every detail was nice, I had no problems with staff and rooms, wonderful and amazing hotel. The location of the venue was awesome and ideal - relatively near Carolina Opry Theater.

Harold

Had excellent stay during a road trip. The room was huge with kitchen, the fireplace, gorgeous view, had a good night's sleep. The hotel's location was marvellous to a great Thai restaurant.

Paul

The location was marvellous and ideal - within walking distance of everywhere we wanted to go.

Max

The hotel is wonderful, everything is nice. The location is convenient and ideal, just a pleasant stroll away from Carolina Opry Theater. It is in a good area.

Samuel

I came here with my kid. Most of the stuff where efficient.

We needed to have breakfast, but they didn't have it.

Chris

We didn't have time, so we also would come here again. The airport was 12 miles away.
FAQ about Marina Inn At Grande Dunes
What landmarks can I find in vicinity of the comfortable Marina Inn At Grande Dunes?
During the stay at the comfortable Marina Inn At Grande Dunes guests can visit Carolina Opry Theater (0.7 miles), The Track (1.4 miles) as well as Horry County Mountain Bike Park (2.2 miles) among others.
What popular attractions are the closest to Marina Inn At Grande Dunes?
The musical variety Carolina Opry Theatre is one of the top-rated landmarks (4.7/5) placed within a 10-minute walk from Marina Inn At Grande Dunes.
Is there parking at the comfortable Marina Inn At Grande Dunes Myrtle Beach?
Yes, the comfortable Marina Inn At Grande Dunes Myrtle Beach features a parking lot available onsite.
What time is check-in and check-out at Marina Inn At Grande Dunes?
Guests of Marina Inn At Grande Dunes can check in from 4 PM to 11.59 PM and check out from 11 AM.
Which amenities are included in the rooms of the Myrtle Beach inn?
All suites at the Myrtle Beach inn boast sound-proofed windows, a writing desk as well as private bathrooms furnished with a hairdryer, a separate toilet and a shower cap.
What sport activities at the Myrtle Beach hotel can I take part in?
At the Myrtle Beach hotel guests can attend a fitness center available on-site or make use of a fitness center and an indoor pool.
What spa facilities does the comfortable Marina Inn At Grande Dunes Myrtle Beach offer?
At a wellness area featured at the comfortable Marina Inn At Grande Dunes Myrtle Beach guests can receive such spa treatments as beauty therapy, facials and a spa service. Additionally, a Jacuzzi, sauna facilities and an outdoor swimming pool are offered on-site.
Does Marina Inn At Grande Dunes have a bar to relax at?
Guests of Marina Inn At Grande Dunes are welcome to relax at the onsite lounge bar.